2019 Athletics Canada Club Coach Workshop
April 26, 2019 @ 5:00 pm

-

April 28, 2019 @ 4:00 pm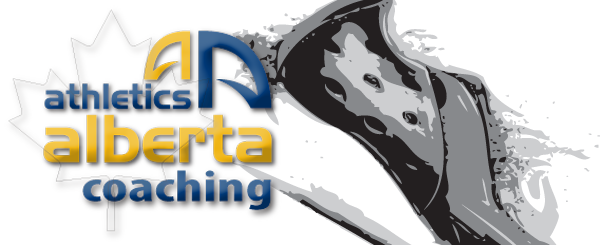 Date & Times:
Friday, April 26, 2018 – 5:00pm – 9:00pm (Classroom TBA)
Saturday, April 27, 2018 – 9:00am – 5:00pm (Classroom TBA)
Sunday, April 28, 2018 – 9:00am – 4:00pm (Classroom TBA)
Course Conductor:  Robbie Cumming  –  Athletics Canada Coach Developer
Technical Material Experts: Sprints & Hurdles(Ritch Braun), Endurance(Doug Lamont), Throws(Karl Meissner), and Jumps(Jaime Thomas).

Course Description:
Club Coach is for coaches who are coaching 12-24 weeks a year and/or 3-5 sessions a week.  The athletes Club Coaches work with have a foundation in Athletics or come from a multisport environment.  The focus of this course is to prepare the coach to develop an athlete's skills in one event group area.  Seasonal planning is a key skill that is introduced in this course.
In Alberta Club Coach, coaches select an event group to specialize in and are introduced to all facets of that event group. Coaches are able to complete as many event group specializations as they like, but they must attend the required additional workshops/seminars to complete their event specific Trained Status.
Coaches wanting to specialize in either wheelchair racing or throws are first required to attend a Club Coach workshop in either the throws, sprints or endurance event groups. Upon completion, they may then attend the one and a half day wheelchair specialisation workshop.
After successful completion of this course, participants will achieve their NCCP Club Coach "Trained" designation, completing an evaluation component will allow them to become "Certified".
FEES & REGISTRATION:
2019 Athletics Alberta Members               $   350.00 (Includes your future evaluation) per person
Non Athletics Alberta Members                 $  425.00 (Includes your future evaluation) per person
AA Members who are re-attending for technical sessions must contact the office for special pricing.
Fees include course materials  ●  All fees are payable to Athletics Alberta
[dt_button size="medium" style="default" animation="none" color_mode="default" icon="" icon_align="left" color="blue" link="https://form.jotform.com/83506019258963″ target_blank="true"]Registration Available Now[/dt_button]
Related Events